Holidays where dogs are welcome
The Cotswolds is one of my favourite dog friendly places to visit, not least because of all the wonderful walks and stunning scenery, but also because there is so much to see and do without leaving your furry friend behind.
Here are some of my favourites:
Head to Cotswold Wildlife Park
A dog friendly wildlife park – yep, you heard that right! As one of the only dog friendly wildlife parks in the UK, Cotswold Wildlife Park has to be on your dog friendly to do list. It's not every day you can say your dog met a lion on holiday!
Dogs are allowed in the majority of the park on a lead and there is plenty to see during your visit from red pandas to giraffes, rhinos to tortoises. Murphy had the best day here meeting lots of different animals and it was a great enrichment activity that felt like something a bit different from your average walk.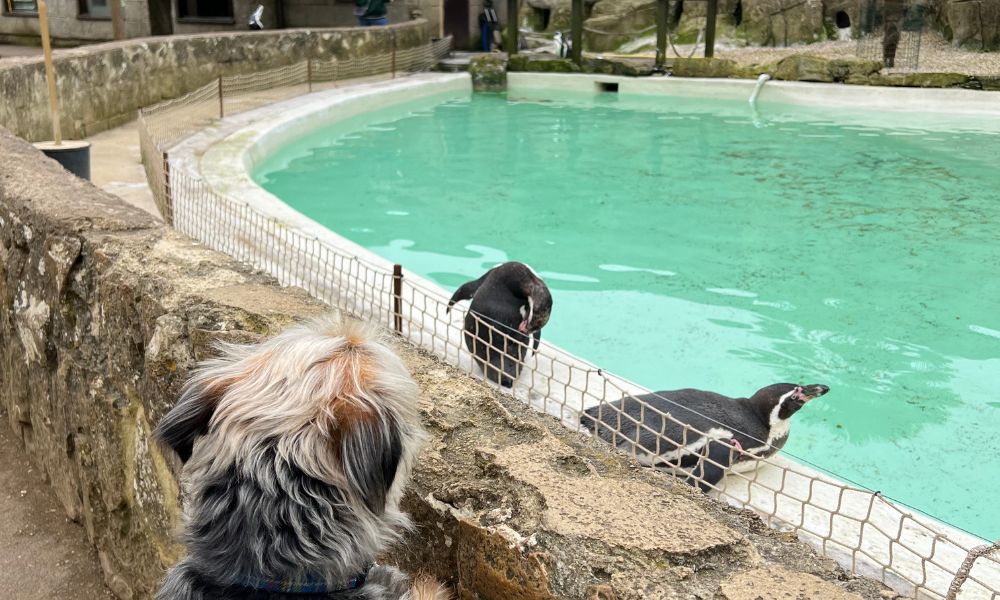 Stroll around the cafes of Bourton-On-The-Water
Also known as the Venice of the Cotswolds, Bourton-on-the-Water is full to the brim of quaint cafes and shops, and you won't be stuck for choice as lots are dog friendly. We went for a circular walk around the village which allowed us to explore the shallow River Windrush which also makes for great doggy paddles.
If you are looking for something different to do, Bourton-on-the-Water is also home to the dog friendly Birdland Park and Gardens – yet another dog friendly wildlife park specifically dedicated to birds.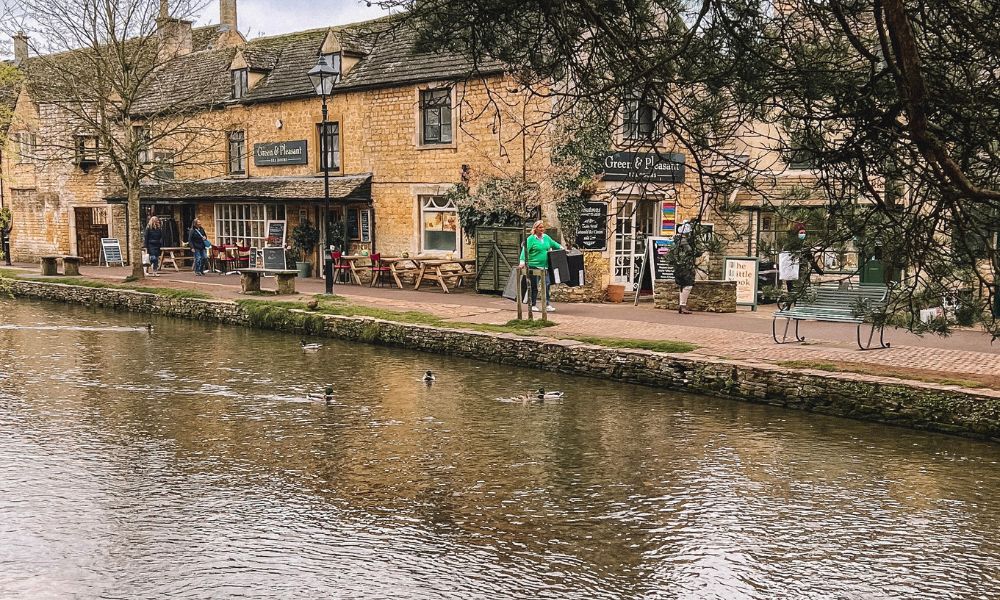 Visit Diddly Squat Farm Shop
If you're fans of the Amazon Prime series Clarkson's Farm then this is a must visit. Diddly Squat Farm Shop is located just outside of Chipping Norton – in fact you can do a lovely walk from the town which I'd recommend.
The shop itself isn't dog friendly, but there is a lovely café area round the back where you can grab a bite to eat and enjoy the views after you've stocked up on your 'cow juice' and other souvenirs.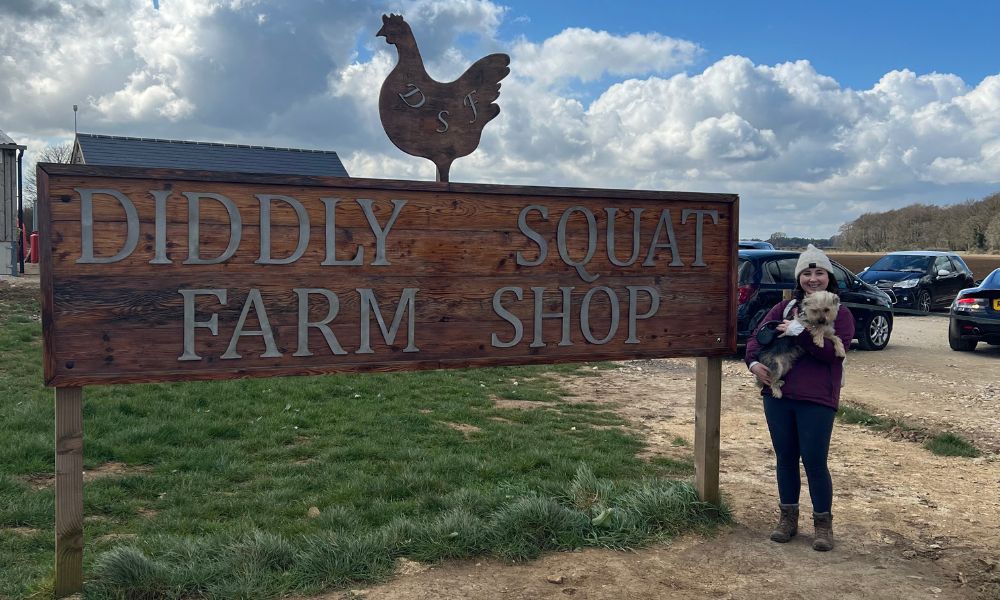 Enjoy the Slaughters
One of the most beautiful villages in the Cotswolds, the twin villages of Lower and Upper Slaughter lie on the shallow River Eye just a few miles from Bourton-on-the-Water. With its picture-perfect cottages and beautiful watermill, the small village of Lower Slaughter hasn't changed for more than a century and feels like a step back in time.
There are plenty of walks you can do from here, but my personal favourite is to walk between Lower and Upper Slaughter as it allows you to fully appreciate the beauty of the place, walking along the Warden's Way.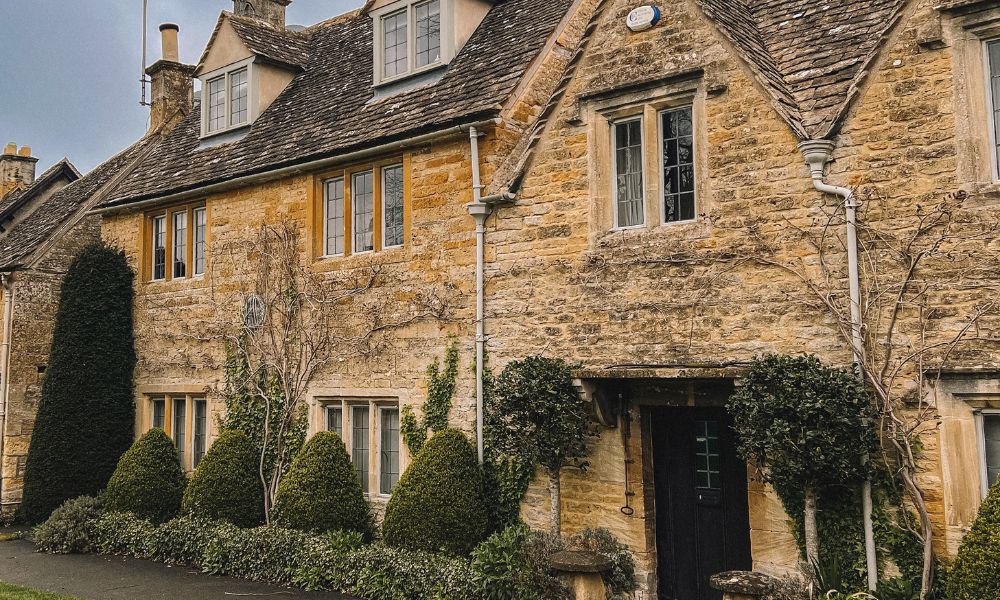 For more ideas of dog friendly places to visit, follow @greatbritishdogwalks on Instagram or head to www.greatbritishdogwalks.com
Emily Oakden is a dog friendly blogger
We hope you're now considering a visit to The Cotswolds with your four legged friends! We have a number of great properties that are very well placed for exploring The Cotswolds with your dog, view our dog friendly holiday cottages now.