Using a bold, rich palette has turned a tired farmhouse into a stunning family home for Claire and Simon Read!
For Claire and Simon Read, it's always been a case of opposites attract. 'When Simon and I met we joked that it was like Jane Austen dating Damien Hirst!' says Claire. 'We both have very different tastes, although over the years we have settled somewhere in between.'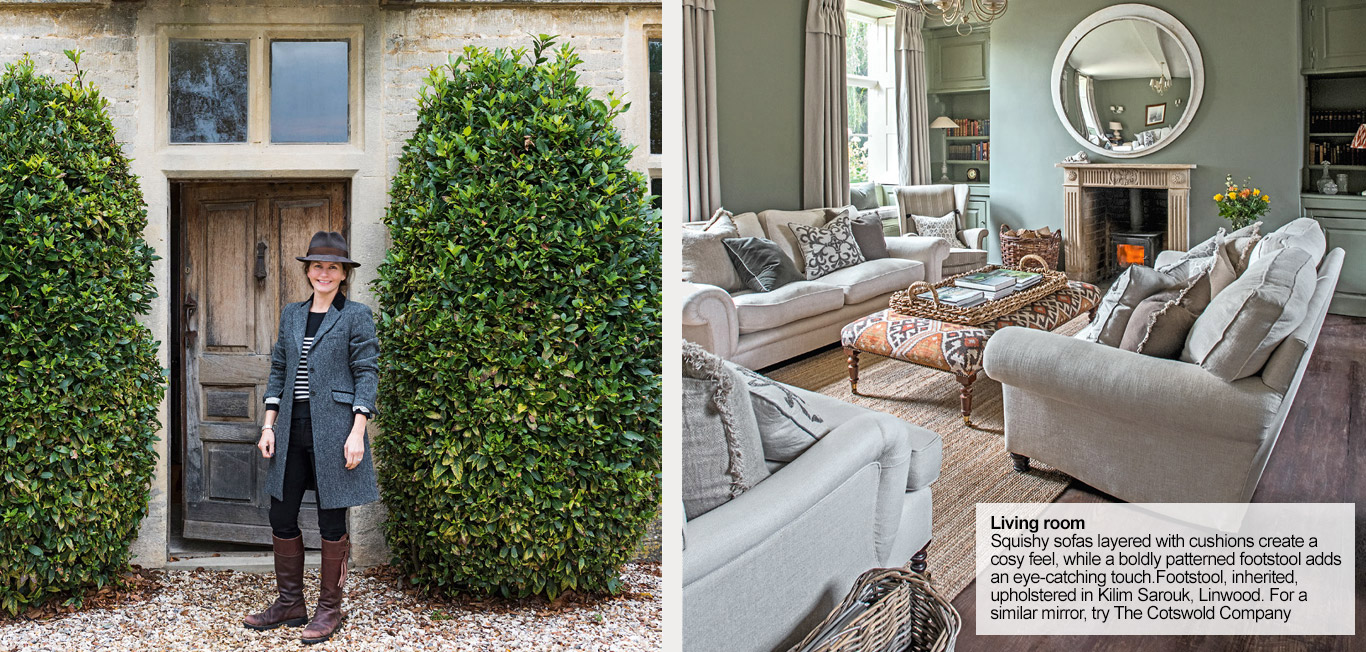 They bought the Cotswolds property as a bolthole to escape from London for holidays and weekends, and it's a complete contrast to their place in the city. While their London home has a modern Scandinavian-inspired monochrome interior, their idyllic country house embraces characterful period features and a colourful, eclectic scheme. 'We live in central London and miss not having a garden. We wanted to give the children a sense of country living,' says Claire.
Finding a suitable property took some time. 'We had looked for ages, but couldn't find what we wanted,' she says.
The couple were still on an estate agent's mailing list, however, and when the details of one particular house came through, it caught their attention. 'The house was so pretty,' she says. 'It's made of Cotswold stone and has a French look, which really appealed. Added to that, Simon knew the area as he grew up nearby.'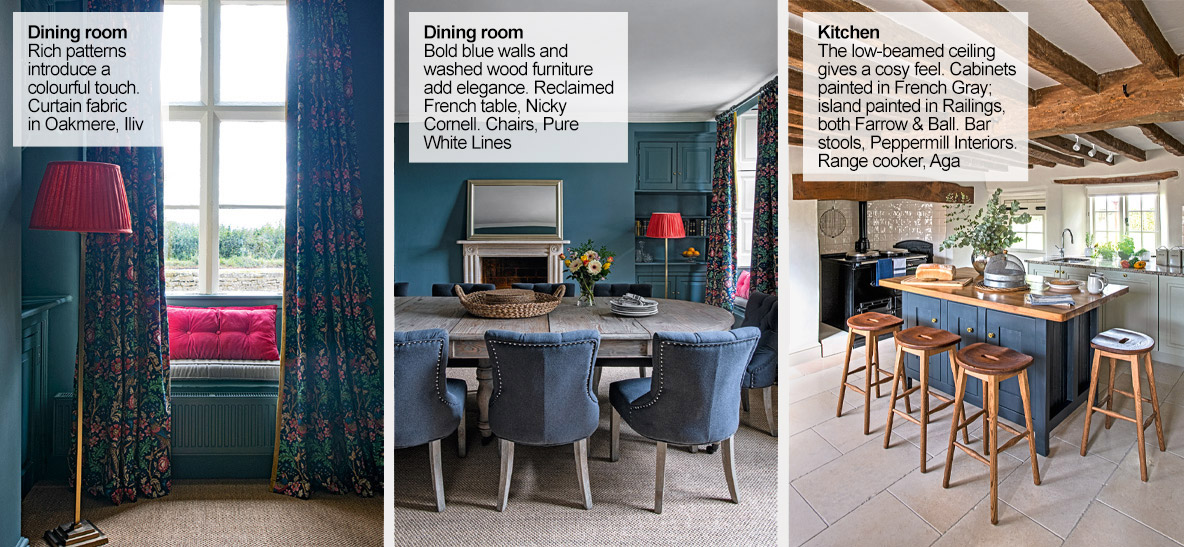 As soon as Claire and Simon walked into the house, they knew this was the one. 'Our London house is very contemporary, but this house has beautiful original details, such as beams, shutters, fireplaces and stable doors – all the lovely aspects, without being too glamorous,' says Claire. 'It definitely is a farmhouse, although it has a Queen Anne facade.'
The house had been rented out as self-catering accommodation for 10 years. 'It really needed updating,' says Claire. 'There was only one bathroom for four bedrooms. It wasn't made for modern family life.' The couple decided to embark on a big building project, aware that the house is Grade II listed, meaning there were restrictions on what could be done.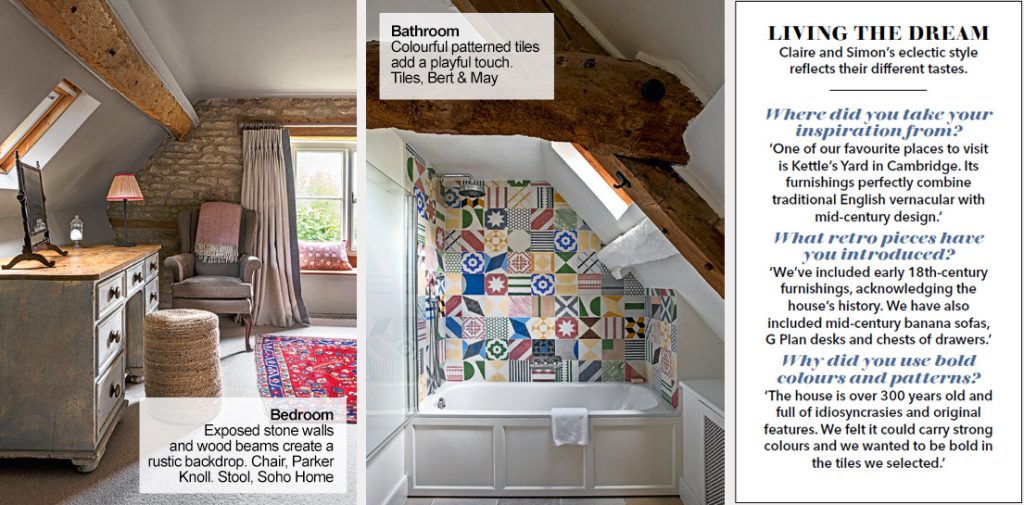 Upstairs they installed four new bathrooms, so every bedroom in the house has its own bathroom, apart from on the top floor where two bedrooms share one. They then built an extension that links the farmhouse with a barn beside it. 'It means we can go into the barn from the house and be undercover,' says Claire.
The barn was insulated and underfloor heating installed and it is now used as a games room. The extension acts as a boot room, with an extra cloakroom, and also provides a back door to the house. 'The changes have made the house more practical as a family home,' says Claire.
Because of the historic nature of the house – including an 18th-century bread oven that sits between the kitchen and the room next door, Claire and Simon weren't able to enlarge the kitchen. Instead, they made the adjacent room into a breakfast room/utility. To emphasise the house's period character further, concealed fireplaces were opened up and wooden floorboards exposed.
The builders did all the work in only 12 weeks. Decorating the property offered a different opportunity from their London home. 'We felt it could carry strong shades and pattern – it isn't our permanent home, so we felt confident to choose bold tiles for the bathrooms that were playful and fun,' explains Claire.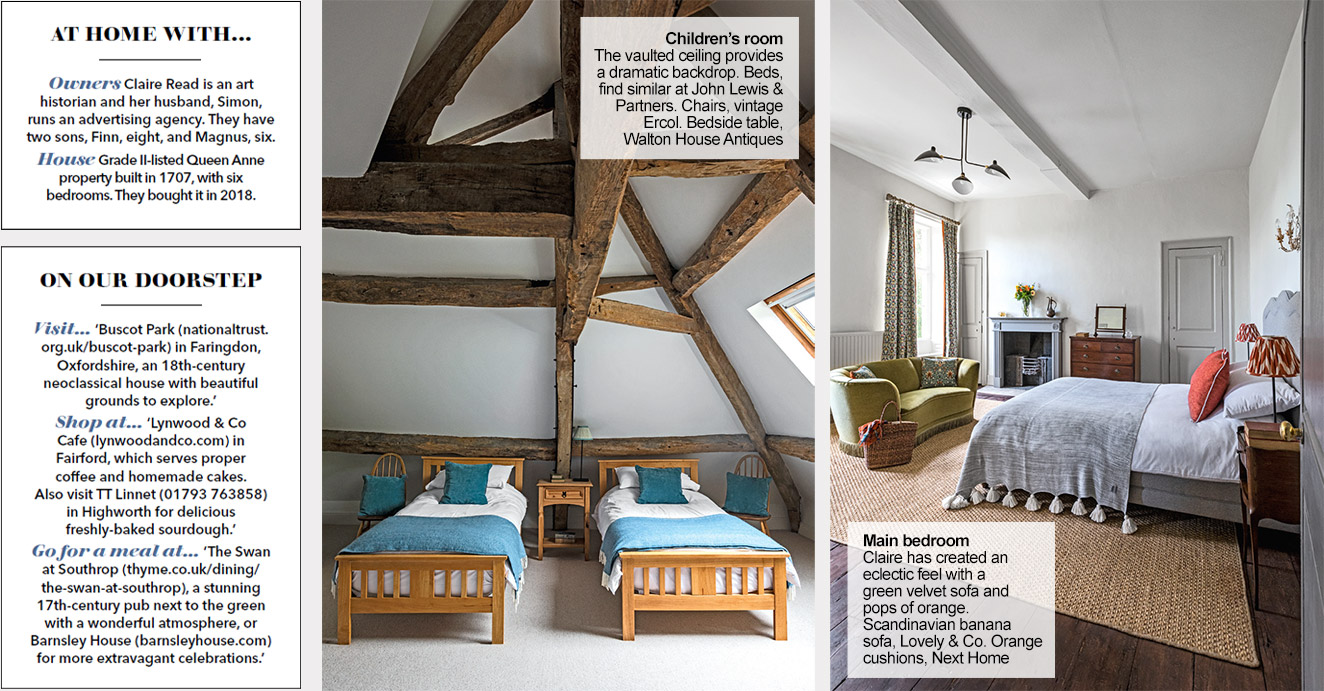 'We opted for interesting colours, and incorporated mid-century furnishings and antiques. Some of the light fittings are also mid-century. We wanted an eclectic mix. 'We also rent out the house and we took that into consideration when decorating,' says Claire. 'It's good to have people here and have the house being used.'
A sojourn in the countryside has plenty of benefits for the family. 'We love it here with the roaring fires and Aga,' says Claire. 'We can entertain family and friends as it's a lovely space with plenty of room. The boys adore it – it's a big adventure for them. It's also peaceful here – we enjoy the silence at night and it's very restorative.'
Article credit – Country Homes & Interiors, issue date Feb 2020. Feature written by Vivienne Ayers and photographs by Polly Eltes.