James and the Kingfishers…
Tell us a bit about what you do at Cotswolds National Landscape?
I have worked for the Cotswolds National Landscape for the last four years, originally as LEADER Programme Manager for the Cotswolds.
My current role, as Partnerships & Fundraising Lead, allows me to work with organisations, such as StayCotswold, who also have a desire to positively impact on this protected area. I'm always keen to hear from individuals, businesses and other organisations that share our aim to make the Cotswolds a better place for people and nature, residents and visitors. This could be through direct support or creating partnerships that deliver a positive impact to the Cotswolds Area of Outstanding Natural Beauty (AONB).
What is the Area of Outstanding Natural Beauty and where does it cover?
Cotswold National Landscape is a designated Area of Outstanding Natural Beauty. The Cotswold AONB is the largest in the country, covering nearly 800 square miles. I'm based in Stroud, which is very central. The northern border is just south of Stratford Upon Avon with the southern border lying just south of Bath, near Radstock. I spend a lot of time driving through beautiful landscapes, appreciating views that many visitors travel thousands of miles to see!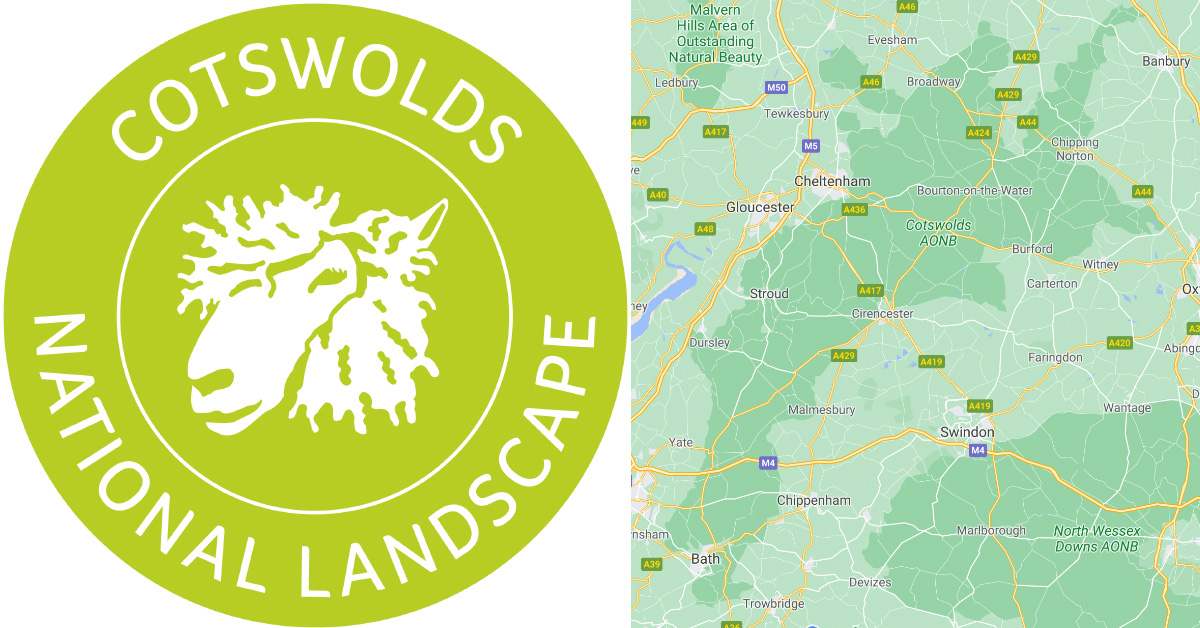 People have lived and worked in the Cotswolds for over 6,000 years. Much of this land is farmland, but the AONB has some of the finest gardens and arboreta in the country, such as Westonbirt and there are over 3,000 miles of public footpath to explore. Not surprisingly, tourism is one of the major industries so working with organisations like StayCotswold is hugely important.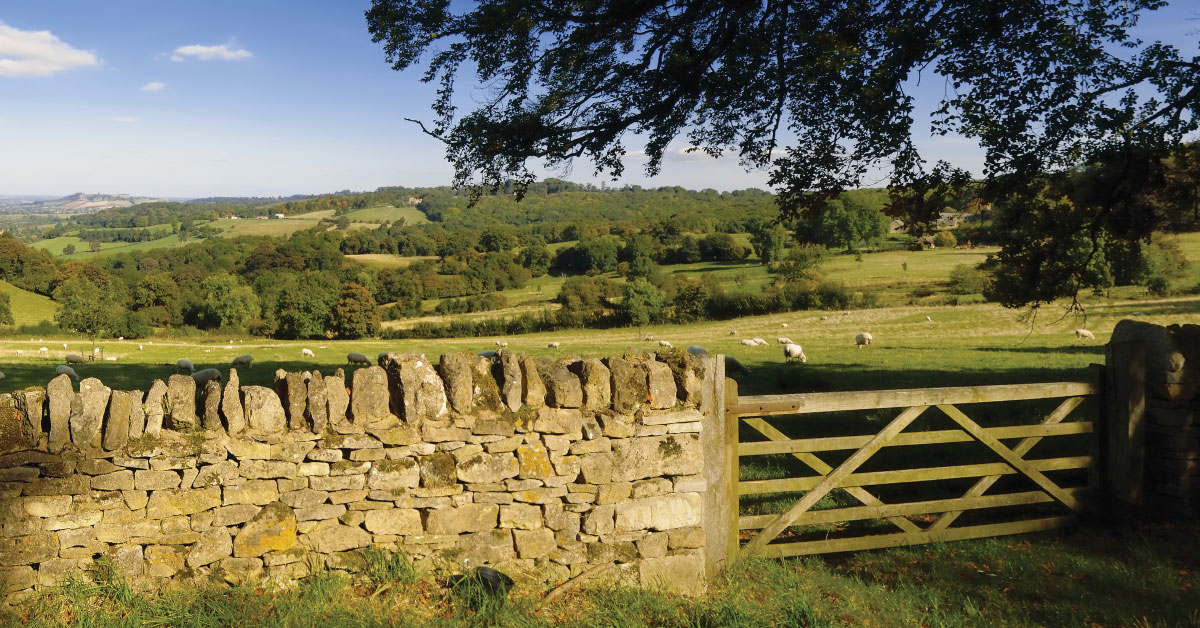 In addition to residents and visitors from further afield, Cotswold National Landscape is also working to engage communities that are on the urban fringes in places like Bristol, Reading and Birmingham. Their big urban populations amount to approximately 10 million people within a 1 hour drive of the Cotswolds.
What projects have you been working on recently?
Recently launched as part of our COVID recovery plans the Kingfisher Trail has kept me very busy. It has been a monumental effort to produce the trail, but very much worthwhile. Starting the project in the middle of lockdown restrictions caused a great deal of frustration, as the organisations I wanted to work with had no choice but to have their doors firmly closed. Despite these challenges I have been able to bring together businesses, town councils, attractions, retailers and restaurants together to host the Kingfishers. All of these organisations have the same goal to drive footfall, and interest in their brand.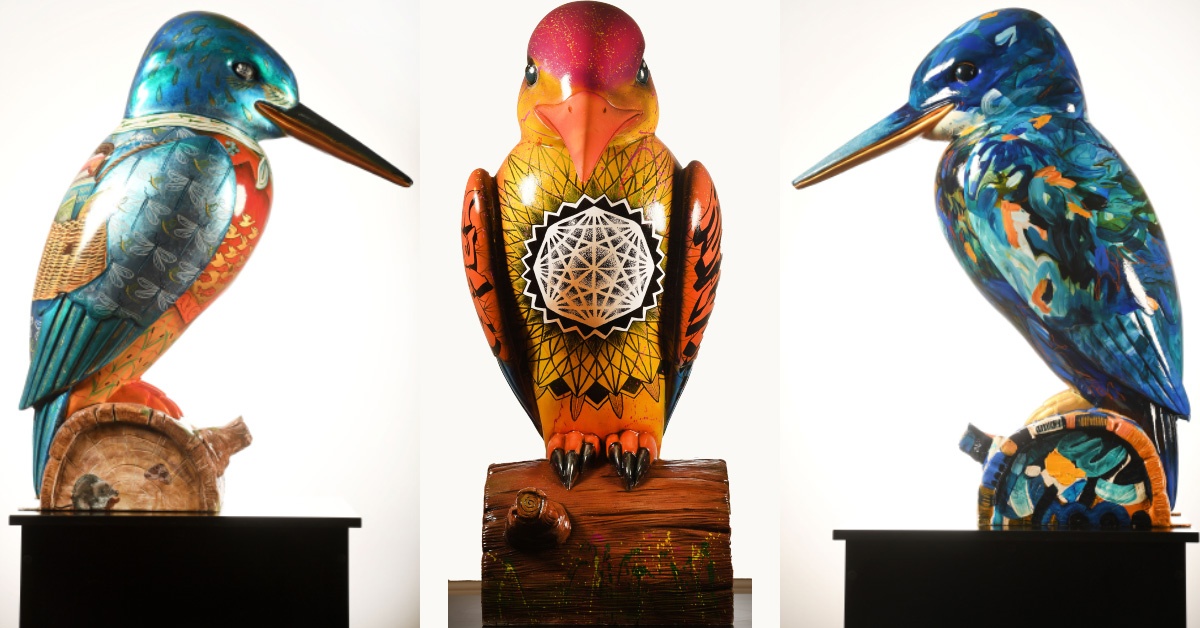 22 Unique Kingfishers
The trail comprises of 22 beautifully decorated Kingfisher sculptures, each truly unique, with themes close to the artists' hearts, including nature and wildlife, climate change, people and places special to them, and of course – the Cotswolds National Landscape. 11 Kingfishers can be found on the Severn Trail with another 9 on the Thames Trail. There is an extra special "Flying Kingfisher" which soars into a new location every two weeks. The final Kingfisher, The Golden Kingfisher is located at Iford Manor Gardens and can be won in a prize draw.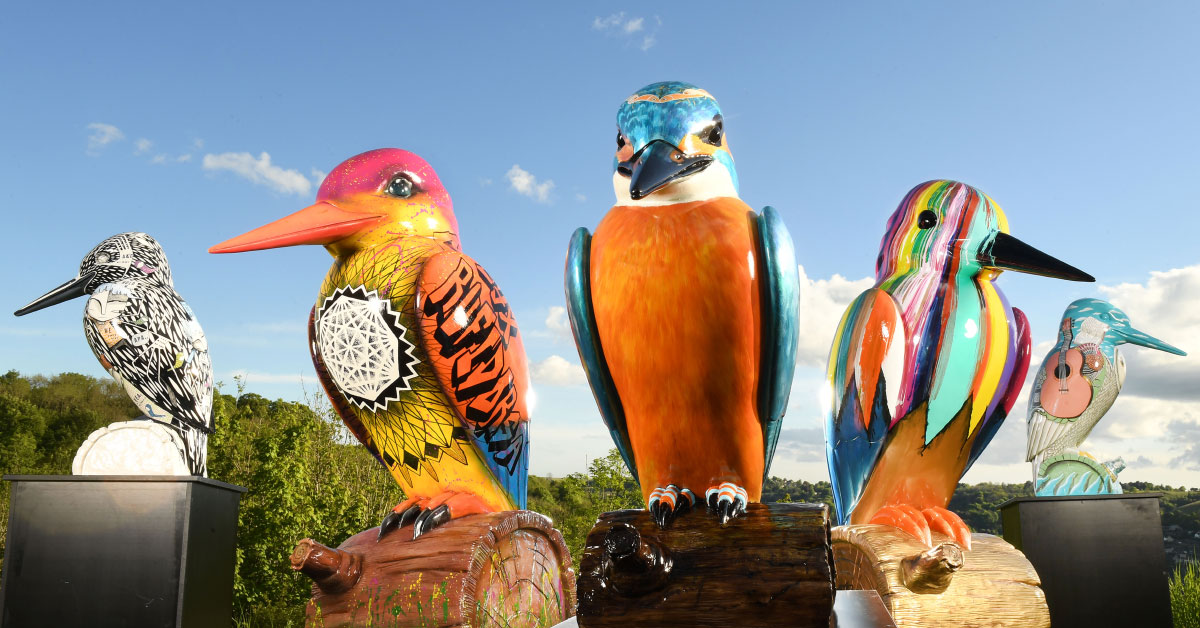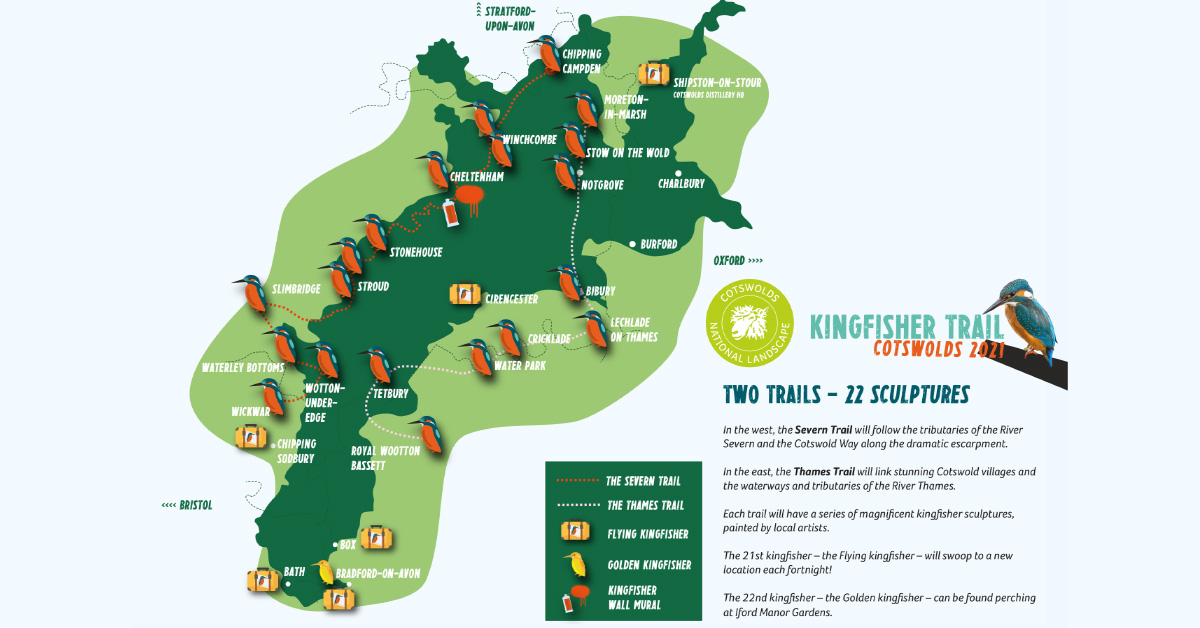 Two Beautiful Cotswold Trails
Together we have built two interesting trails which can be broken down into clusters for visitors, planning to take a morning coffee near one Kingfisher, lunch near another, exploring the local areas, bringing much needed trade to these locations. For example, a Kingfisher in the train station will greet any visitors arriving in Cheltenham by train; they can also visit the amazing mural in Benhall Park in Cheltenham and then travel on to Winchcombe and perhaps Sudeley Castle.
Creating the Kingfisher Mural by Andy Davies and Curtis Hylton, in Benhall Park, Cheltenham
I recently spent a day adding the coded plaques to the Kingfishers on the Thames Trail, covering 117 miles starting in Moreton-in-Marsh, down through Stow-on-the-Wold, Bibury, Lechlade, and Tetbury, finishing in Royal Wootton Basset in the southwest. It was a fabulous tour of the eastern Cotswolds that I am sure visitors will enjoy.
Follow the Flying Kingfisher…
I will be driving more of the Cotswolds as the trail continues through the summer, with the Flying Kingfisher moving location every 2 weeks. It's an interesting travelling companion and fits nicely into my Land Rover!
Do you have any tips for StayCotswold guests during their stay?
Apart from enjoying the Kingfisher trail this year, our website has a great selection of self-guided and guided walks, cycling and riding routes. You will also find a selection of rural skills, wildlife and craft courses available to book. There are lots of really useful resources for enjoying the natural environment during your stay in a Cotswold holiday home.