Fine dining in the Cotswolds
We all know that the Cotswolds has simply stunning scenery and amazing walks that invariably end up at a beautiful pub. However, what many may not know is that the area also has a disproportionately large number of quality restaurants for those who enjoy fine dining.
The region boasts several restaurants that Michelin have deemed outstanding enough to give their ultimate accolade; a sought-after star! In fact, two restaurants within the region have two stars and this article focusses on those two exceptional places to indulge and enjoy.
Le Manoir Aux Quat'Saisons, Great Milton, Oxford
Sometimes, food is merely consumed functionally. However, other times, it is an absolute joyful experience. Raymond Blanc's 2-starred oasis transcends eating and is somewhere that everyone, even if only once in their life, should try to visit. From its inception in 1985, Le Manoir Aux Quat'Saisons has always had 2 Michelin stars. Each year, the consistency of their quality dishes ensures that it retains those two precious decorations.
From the moment that you arrive, it's impossible not to realise that you are in a truly special environment. The beautiful Oxfordshire gardens are a delight and very much worth a visit before dining; the service and attention will make you feel like you are the only person that matters to all of the professional staff; the freshness, flavours and fragrances of the homegrown produce will make your mouth water and the wine list is something to behold.
Raymond Blanc tries to give his customers an abundance of different gastronomic experiences and so both lunch and evening menus are of the 'tasting' variety. Although all of the vegetables are grown within the gardens and are incredibly fresh and flavoursome, other ingredients span the extremes of the British Isles with Orkney scallops to Cornish seabass.
It is true that dining here is not cheap. However, it is also a culinary connoisseur's nirvana! If you want to treat yourselves to truly world-class cuisine, you will go a long way to have not just a meal, but a heavenly experience, that is better than at this Michelin 2-starred Garden of Eden.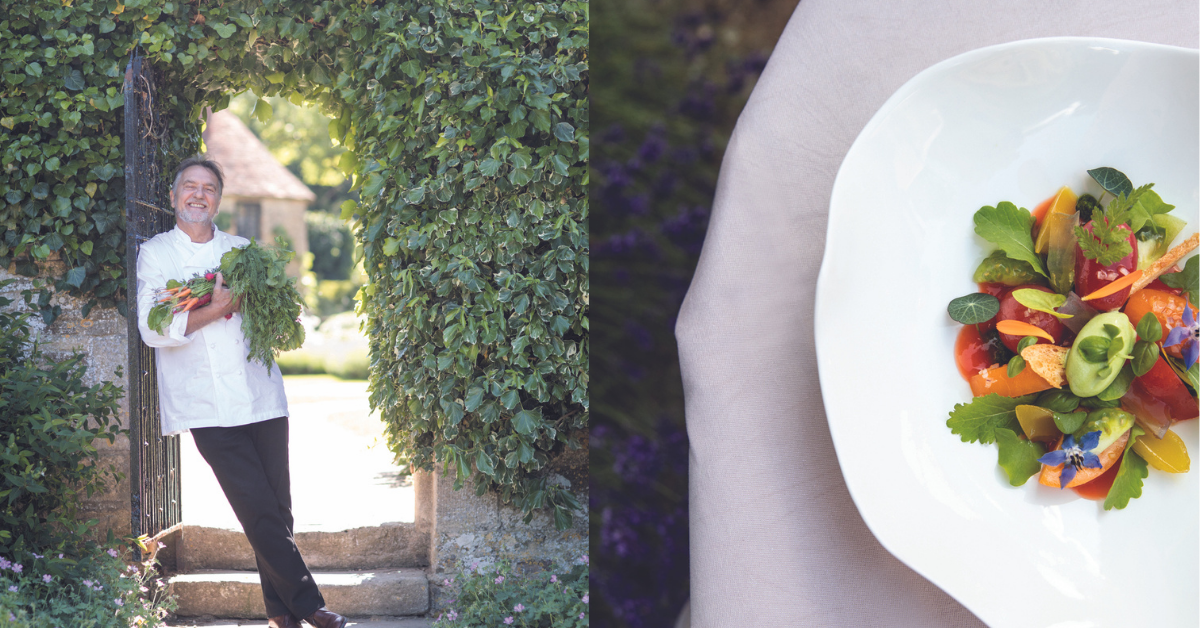 The Dining Room at Whatley Manor, Malmesbury
This superb restaurant is set with a beautiful classic Cotswolds backdrop. Located in 12 acres of magnificent Malmesbury country styled gardens, it is definitely worth arriving early and taking a stroll around 26 delightful 'outdoor rooms' within the grounds, all unique, varying from herbaceous areas to streams and woodlands. A relaxing aperitif on the terrace, taking in the views, is the order of the day before entering the Dining Room itself; a wonderfully understated and intimate place.  Interestingly, and maybe uniquely in such a prestigious restaurant, you are invited to enjoy some divine nibbles before the main course, chatting with some of the staff whilst actually sat in the kitchen!
Niall Keating is a young, innovative chef and you can tell from his dishes that he has travelled extensively and certainly to the Far East, as some of his delicious offerings include nashi pear and he uses sakura, umeboshi and some delicious umeshu; to name just a few Asian ingredients. If meat products like chorizo and 'Beef from the Manor' are not for you, fret not, as there are outstanding pescatarian, vegetarian and vegan menus available too.
Like with all Michelin starred restaurants, The Dining Room has an extensive array of wines and if you are worried about whether to have a Burgundy or New World white with your fish, again do not fear as you can opt for the 'Wine Pairing' or be guided by the highly informed sommelier.
The Dining Room may not have the history of other, long established, or globally known, 2 Michelin starred establishments, however, their setting, their local produce, their menu and their esteemed chef all ensure that this will be an experience that you will never want to forget.