We reveal our top 10 list of the best Cotswold restaurants with outdoor seating and gardens.
So, we can finally all eat out again! However, just remember that until 17th May 2021, if we want to experience some of the best of Cotswolds' food and views, we will all need to search for restaurants with gardens and outdoor seating for our outdoor dining experiences. We've covered pubs with gardens and outdoor seating in our other blog but here are some great al fresco places that we would also highly recommend.
---
1. Daylesford Farm, Kingham
Simply a must visit. The food at Daylesford Farm is an eclectic mix of all its organically grown, produce. From an award-winning patisserie, through the market garden and dreamy creamery, the meals are all the epitome of fresh, home-grown quality fare. The views are outstanding however you need to book early to reserve an outdoor table in the Courtyard garden.
---
2. The Old Butchers, Stow-on-the-Wold
Don't be misled by the name! Although The Old Butchers will serve you a delicious Tournedos Rossini should you prefer, it actually specialises in seafood. You can have shellfish, raw or 'fritti' to start your meal followed by the fresh catch of the day. Yes, we are biased, however Tiramisu with espresso ice cream wins hands down eight days a week as a dessert! Again, this restaurants al fresco seating area is limited so don't wait to book.
---
3. Burford Garden Centre
If you fancy a really wholesome breakfast, a lovely light lunch or simply a scrummy cake, then the Burford Garden Centre is a great stop off place. You'll be protected from the elements by a canopy, or, should summer come early, a parasol no less! All the produce is local and fresh and there is even free Wi-Fi to keep the kids amused!
---
4. The Croft. Bourton-on-the-Water
Adjacent to the River Windrush, The Croft will welcome you for a hearty breakfast all the way through the day to a delicious dinner. The food is wonderfully great local fare with relaxed and friendly service. The view is fabulous and Bourton-on-the-water is a must visit when visiting the Cotswolds.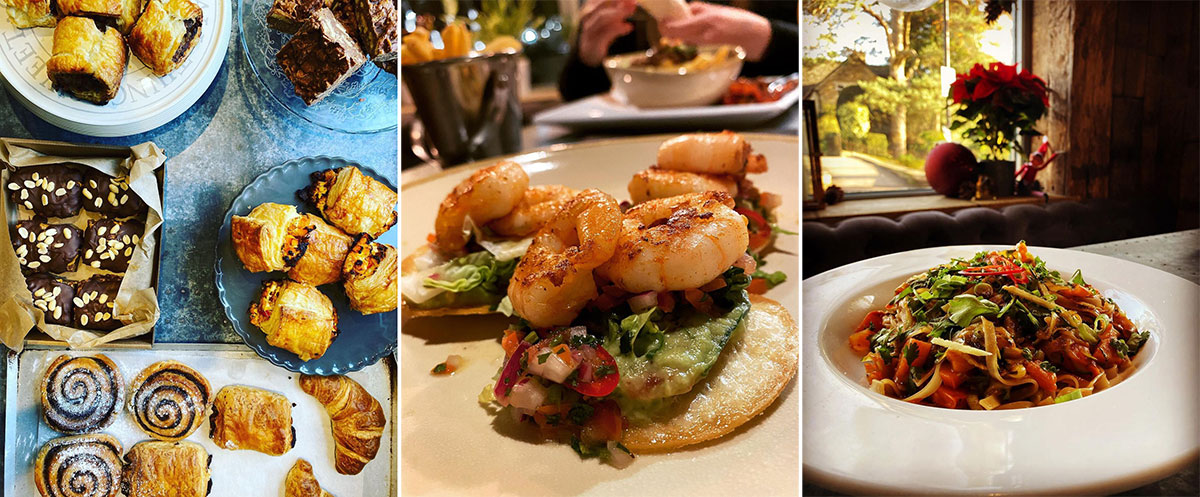 ---
5. The Rose Tree Restaurant, Bourton-on-the-Water
Over another bridge in the "Venice Village of the Cotswolds" lies the fabulous Rose Tree Restaurant, complete with a garden area, that will serve you traditional dishes like a hearty Ploughman's or a Gloucestershire Old Spot sausage and mash, through to a classic Sunday roast (GF versions available) and all served with fresh seasonal vegetables and a warm welcome. 
---
6. The Hive, Stow-on-the-Wold
Step this way if you're looking for a friendly, family welcome for a great brunch or even just cracking cakes and bakes. The Hive is run by two sisters who make you feel fully part of their family. Do not worry if you're looking for something a little stronger than a cup of Earl Grey, the ladies serve beers, ciders, wines and even a bottle of LPR!
---
7. Number 32, Broadway
We have a real soft spot for Broadway and if you're there for the day and are looking for an al fresco breakfast or lunch, you could do a lot worse than dining at Number 32. From highly recommended breakfasts to authentic Italian pizzas and pastas, you will get a great meal that's reasonably priced. Having that Italian influence, you must also try one of their great coffees. You can enjoy all this via take away or sit at one of their outdoor tables.

---
8. Alfresco dining at Ellenborough Park, Cheltenham
Oh my! If you're looking for somewhere to while away an afternoon then look no further than the Alfresco dining at Ellenborough Park. Their quirky carriages are perfect for an ultimate dining experience or you can simply enjoy a pot of tea – or glass of bubbles – whilst watching the sun set over Cheltenham from their Front Lawn. With menus for lunch, dinner, vegan, children and dogs you are simply spoilt for choice. But if the weather is not your friend you can dine in the Horse Box Brasserie or main restaurant too. 
---
9. Blockley Café, Blockley, Moreton-in-Marsh
Don't be fooled by the name, for Blockley is no ordinary "café". This licenced, artisan café offers fabulous food all produced with local fresh products, beautifully presented. From brunches to lunches and even cream teas, or, after a day's sightseeing, you can relax with a welcome glass of wine whilst reflecting on another wonderful day in the Cotswolds. They have truffle and parmesan skinny chips, a charcuterie board filled with cured British meats and there is a healthy selection of vegan or vegetarian delights too.
---
10. Teatro Bar and Restaurant, Cirencester
Last, but most certainly not least, the simply chic Teatro Bar and Restaurant is a hidden gem close to the centre of Cirencester. They serve up modern British cuisine made from locally-sourced ingredients. Their Sunday Lunch Chill Grill menu delights with Spatchcock Poussin and Peppered Bavette Steak, whilst their seasonal  A La Carte menu features moules marinere alongside garden pea risotto. Teatro is also the perfect pre-theatre dinner stop with their Prima Del Teatro serving early supper between 5.15 and 6.15 Monday to Saturday.