As you can imagine, we LOVE the Cotswolds, so we've pulled together some of our favourite things about the Cotswolds.
Our 10 reasons why we think you should visit…
#1
Explore the picture postcard villages
The Cotswolds are famous for some of the most picturesque villages that you will find! Such as Burford, Bourton-on-the-Water, Stow-on-the-Wold and Bibury, one of the most photographed villages in the country.
These villages offer traditional, charming and quaint characteristics (such as the beautifully built Cotswold stone properties), with fantastic places to eat and drink plus an abundance of rural walks and activities. With so many fantastic locations to choose from, we believe the Cotswolds is one of the best places to holiday in the UK today!

#2
The Cotswolds is the gateway to iconic cities
Iconic cities such as Bath, Bristol and Oxford are crammed with such incredible history, offering lots to see and do. The Regency time of Cheltenham is also nearby, with its famous racecourse and a range of shops, cafes and restaurants.
These cities are easily accessible by car or train from many rural Cotswold locations, offering you a great excuse for a day trip whilst you're on your Cotswold holiday.

#3
It's a real foodie's paradise
With an array of independent delis and farm shops selling delicious food and drink all produced locally, you're sure to find some delicious produce to use during a self-catering holiday.
There are also plenty of fantastic tearooms, restaurants and gastropubs in many of the villages, where you can relax with an afternoon tea or indulge in superb dishes for an evening meal.
Take a look at our list of handpicked recommendations!

#4
There is plenty for families to do
With a huge array of activities on offer, there's plenty for families and groups to do, some of our favourites include:
Adam Henson's Cotswold Farm Park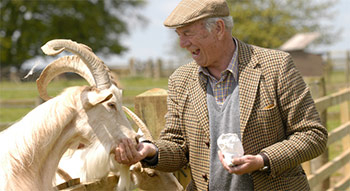 They've come a very long way since 1971, when the gates of the Cotswold Farm Park opened to the public for the first time, to help protect some of our rare breeds of farm animal. They're now home to over 50 breeds and are open for 10 months of the year. They are passionate about all that they do and are dedicated to delivering the best of British farming, through a sustainable and authentic approach.
Situated next-door to the StayCotswold office, the park was opened in 1970 to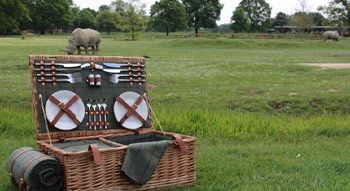 give new life to a much loved house and park. Over forty years later, they are delighted to welcome you to what is now one of the UK's largest zoological collections and most exciting gardens. Millions of visitors in that time have discovered the beauty and diversity of the natural world. Relying solely on visitors to the park for funding, there's a thriving educational programme, numerous endangered species breeding programmes and several vital conservation projects in the wild.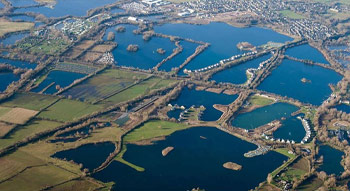 Is an area of 40 square miles, with more than 150 lakes set across the countryside of Wiltshire, Gloucestershire and West Oxfordshire. It is home to the UK's largest inland beach and provides a wealth of activities! Within the park there is a diverse range of businesses offering accommodation, leisure activities and food and drink. The Cotswold Water Park Trust is a charity which does much more than look after the tourism potential of the area – including estate management, biodiversity protection, conservation and wildlife protection.
#5
The Cotswold Way
It offers 100 miles of varied walking through beautiful villages and past historical sites so you can enjoy a day of rambling or just a leisurely Sunday stroll. It's also perfect for dogs too!
These stunning National Trails take you through some of the very best landscapes in the UK! So of course for many, these will be places you may well want to stay for several days or weeks at a time… and our holiday cottages can offer you luxury accommodation right next to these Trails.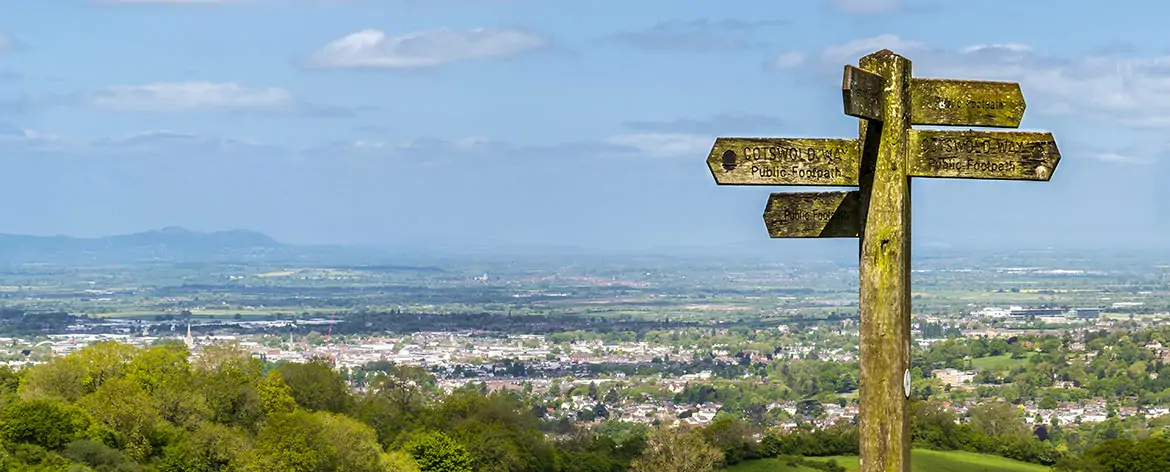 #6
It is steeped in history
Why not visit Sudeley Castle which was once home to Queen Catherine Parr, the last and surviving wife of Henry VIII.
Take a look at the Avebury Ring, one of the greatest marvels of prehistoric Britain. Built and much altered during the Neolithic period, roughly between 2850 BC and 2200 BC, the henge survives as a huge circular bank and ditch. Within the henge is the largest stone circle in Britain – originally of about 100 stones – which in turn encloses two smaller stone circles.
Or perhaps marvel at the beautiful mosaics at Chedworth Roman Villa, one of the grandest Roman villas in Britain.

#7
The views are truly stunning!
Famous for incredible countryside views, rolling hills and the 'honey-coloured' Cotswold architecture. These views can be enjoyed from many vantage points including some of our favourites:
Broadway Tower from which you can see 16 counties on a clear day.
Dover's Hill which is a 230 metre high natural amphitheatre near Chipping Camden.
Cleve Hiil which is the highest point in the Cotswolds, with sweeping views across Cheltenham and Gloucestershire.
The Malvern Hills, popular with dog owners and hikers, which offer spectacular views across the Cotswolds.
Crickley Hill with breathtaking views and picnic spots for a peaceful day out.

#8
The Cotswold events calendar
Packed full of varied, high profile events, including The Cotswold Show, The Royal International Air Tattoo at RAF Fairford (check out our Royal International Air Tattoo Accommodation), The Big Feastival (check out our Big Feastival accommodation), and Cheltenham Jazz Festival.
There are also smaller events such as village fetes and car shows in the summer, Christmas markets and cheese rolling at Cooper's Hill.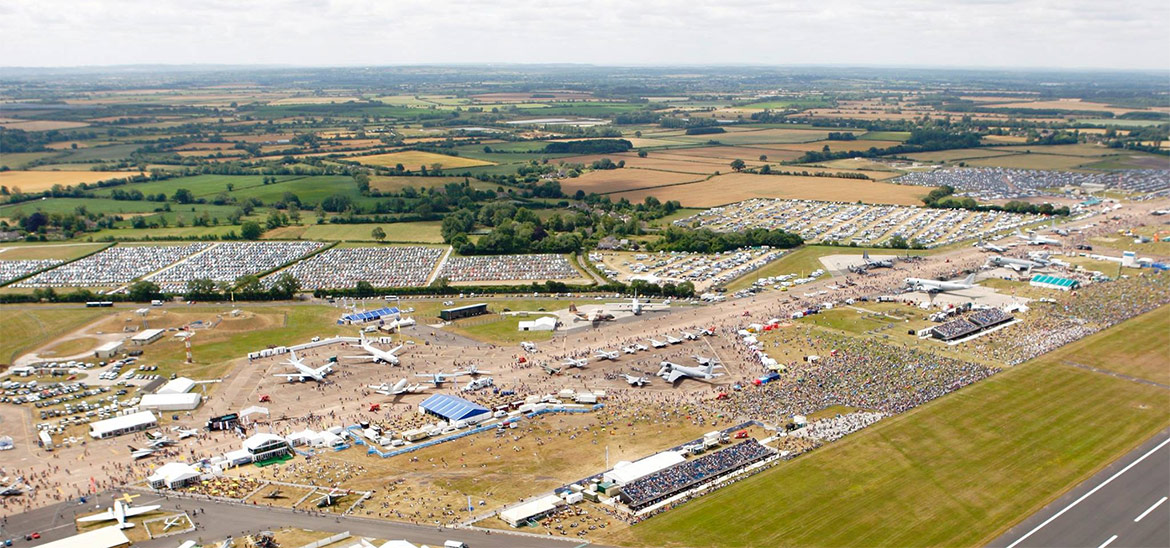 #9
Fantastic shopping
Can be enjoyed in many villages and towns, with high streets boasting independent shops and boutiques, selling unique and high-quality goods. So if you're fed up with the 'same old shops', the eclectic mix available in the Cotswolds are waiting to be explored!
The Cotswolds has the largest concentration of art and antique shops outside of London. There's a plethora of antique shops in Stow-on-the-Wold, Moreton-in-Marsh, Burford, Broadway, Tewkesbury and Winchcombe. You'll also find many local art galleries hosting regular exhibitions and featured artists from the Cotswolds.
Take a look at the Cotswold Tourism website for a list of shops.

#10
There are some beautiful properties
From exquisite manor houses to cute chocolate box cottages, and many you can even enjoy a stay in with us! There's cute romantic hideaways and picturesque large houses accommodating family parties which you let in their entirety for a fixed holiday duration.
Take a look at the property search section of our website for more details.

---
Have we inspired you to come and visit the Cotswolds? Call us on 01993 259444 or email stay@staycotswold.com