10% off tickets for Berrybank Park
With its views of a glorious Evenlode Valley with an expanse of sky rising over the distant treeline, it's a beautiful and inspiring place.
The Amphitheatre has been sculpted in harmony with the surrounding landscape, offering 500 grassed seats and sweeping views.  The stage itself is similarly impressive, with state-of-the-art lighting and sound equipment ensuring that performances are crisp, clear, and immersive.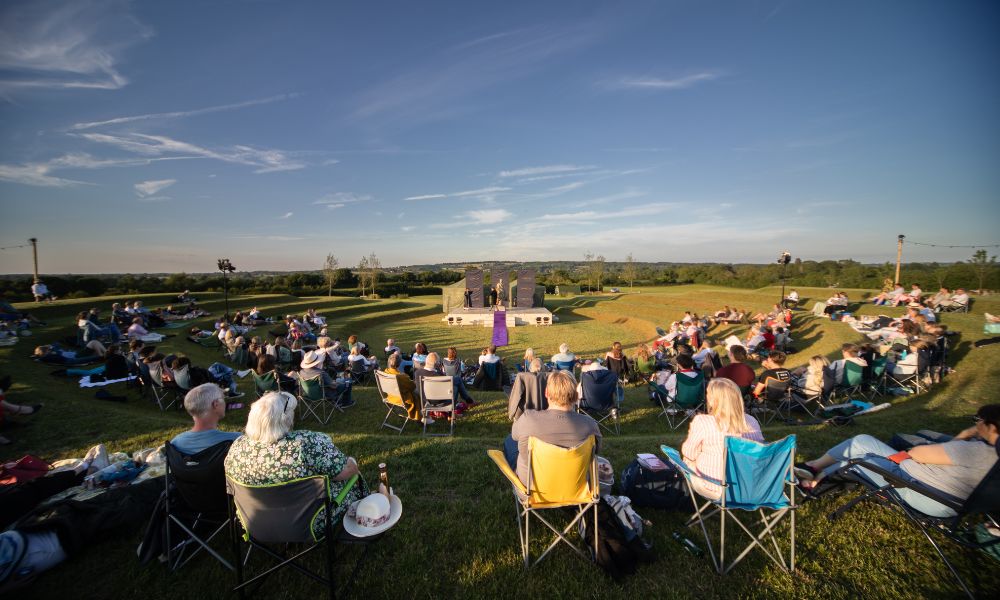 Of course, it's not just the technical specs that make the Amphitheatre so special – it's the sense of community and camaraderie that permeates every event held here. Whether you're attending a Shakespearean play performed by a touring theatre company, catching a concert by a local band, or simply enjoying a picnic, there's a tangible feeling of warmth and hospitality that fills the air.
The Amphitheatre was created in 2021  in memory of Janet Cockell, whose spark and love for the performing arts have been kept ignited by her family through this incredible space – widely used by a range of performers, from internationally-renowned to local groups.  It's also an important focal point for community events such as the Oddington Festival.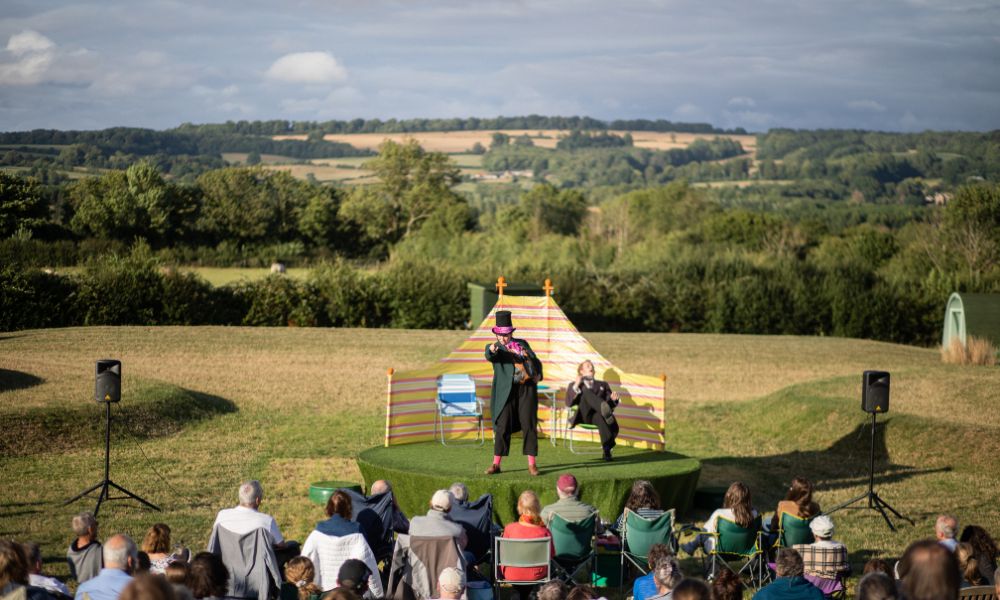 Complimenting the Amphitheatre is The Grand Pavilion, with its beautiful lantern-style glow – it provides front-of-house facilities, including a kitchen grill.  The space is available for private hire  Pavilion.
There's no denying that the Amphitheatre at Berrybank Park is still something of a hidden gem.  As a new venue it remains something of a well-kept secret – a place where locals can come to escape the hustle and bustle of modern life, and visitors can discover a little-known corner of one of England's most beautiful regions.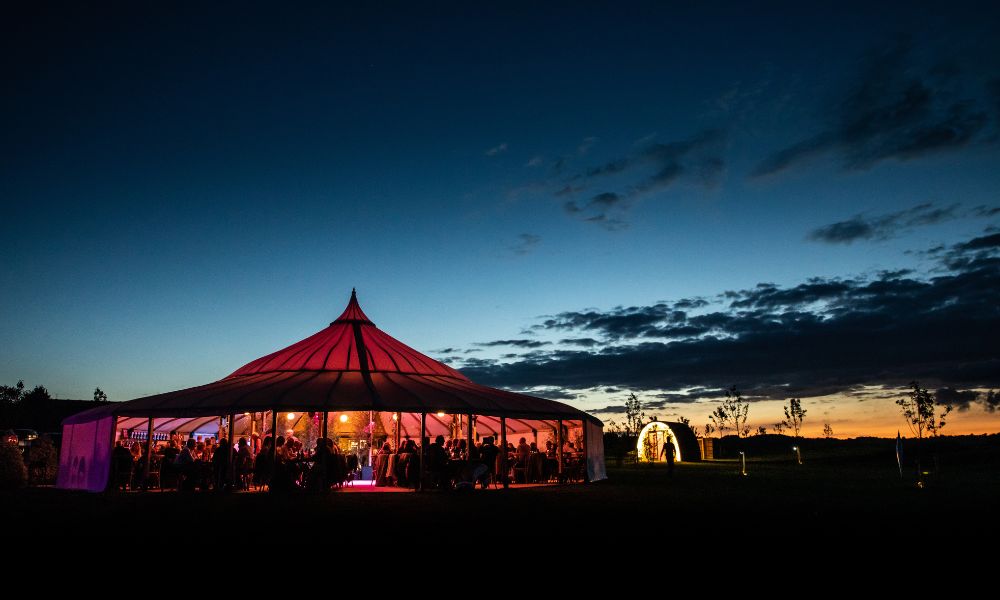 Overall, the Amphitheatre at Berrybank Park is a true testament to the power of community, creativity, and collaboration. With its stunning setting, top-notch facilities, and vibrant programme of events, it's a place that truly has something for everyone – whether you're a lifelong resident of Stow-in-the-Wold or a first-time visitor to the Cotswolds. So why not pack a picnic, grab some friends, and head on down to the Amphitheatre? You never know what kind of magic you might find there.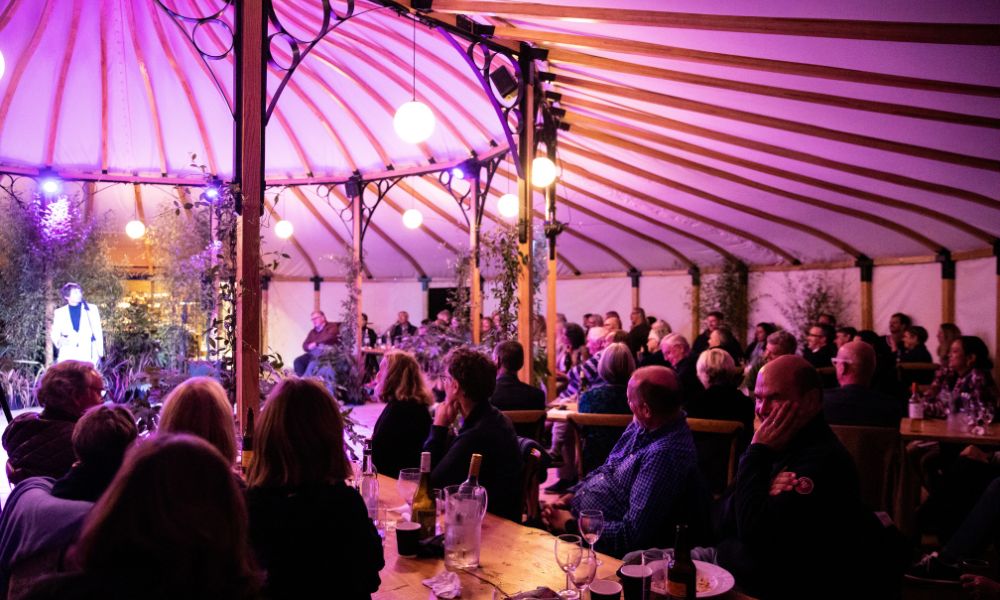 Ready to visit? You can visit the Amphitheatre box office online, where tickets for a wide range of events are available to book, including the likes of Out of The Blue Oxford, LP Swing Orchestra resenting 100 years of BIG BANDS, Robin Hood, The Great Gatsby, Doctor Dolittle, Horrible Histories and Mick Miller to name a few.
Don't miss out as Supersonic Queen and ABBA are sell outs.
---
StayCotswold guests receive a special 10% off performance tickets, when they use their StayCotswold Guest VIP Pass. Take a look at our self-catering accommodation near Berrybank Park.
Visit The Berrybank Park website
To access your VIP discount please go to the guest portal.
---
Where to stay near Berrybank Park