Lechlade is a bustling market town on the southern edge of the Cotswolds. Its idyllic location on the banks of the river Thames makes it one of our favourite places to visit, so we thought we would share our top 10 things to do on a visit to Lechlade.
1. Thames Path
No visit to Lechlade is complete without a walk along the Thames path. You may recognise the area as the starting point for David Walliams' swim for Sport Relief back in 2012, or the opening scenes of the LondonOlympics. You can pick and choose how far you walk along the path, safe in the knowledge that the route is a gentle walk and the peaceful flowing water makes for the perfect companion. If walking is really your thing then pick up a copy of the Lechlade Local WalksLeaflet from the post office and choose from one of six walks which all start from the MarketSquare in the town.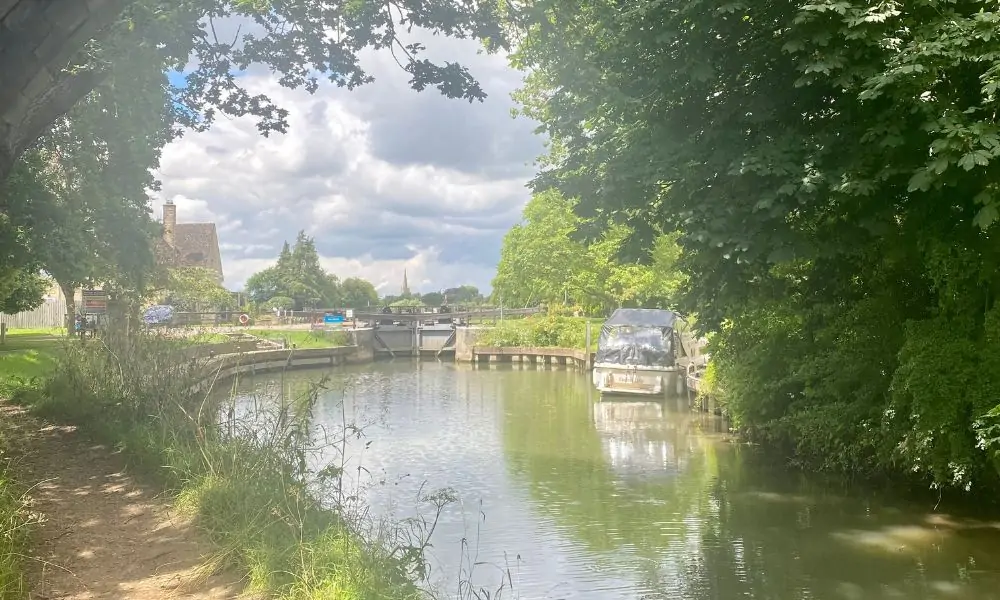 2. Sourdough Revolution
After a wonderful walk you may be looking for a place to refuel-well look no further than a StayCotswold favourite-Sourdough Revolution where you can pick up the most delicious sourdough loaves or a mouth watering sourdough pizza.Just opposite you will find simply the best coffee in the world-according to us anyway! Lynwood & Co is a wonderful cafe and takeaway serving delicious coffee alongside a selection of salads, sandwiches, tarts and cakes. A perfect spot to rest your legs and soak up the smell of freshly roasted coffee.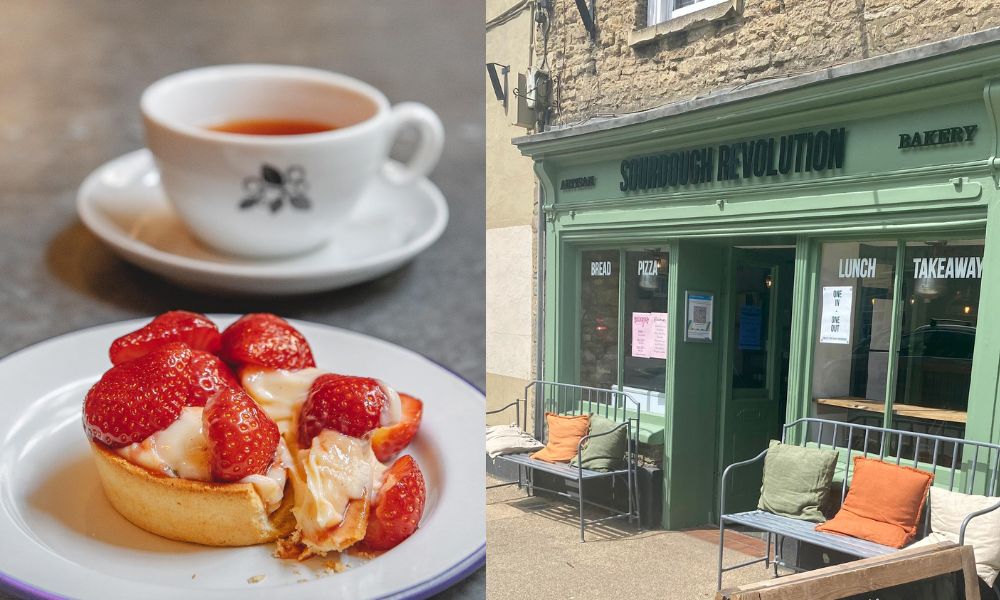 3. Cotswold Wool Trade
Lechlade played an important part in the Cotswold Wool trade due to its convenient position on the Thames giving easy access to London. You can learn more about the history of the wool trade on a visit to the Cotswold Woollen Weavers in nearby Filkins. Start your visit something delicious in the coffee shop before wandering through the wonderful 18th century buildings including the textile museum exhibitions. There is a great shop featuring a good selection of woollen throws and scarves as well as a fine collection of vintage and antique furniture that has been restored and reupholstered using the cloth made on site.
4. River Thames
On a warm summer's day there is nothing better than a refreshing cold glass of your favourite tipple enjoyed on the banks of the River Thames. Lechlade is home to The Riverside which serves a fantastic selection of home-made pub food, complemented by their selection of wines, local beers and ciders. Another favourite is The Trout Inn by the weir pool to St John's Lock-the first lock on the River Thames. Believed to date back to 1472 the Inn serves a selection of Light Bites alongside traditional pub food and four different types of Ploughman's!
5. Cotswold Canoe Hire
Hire a boat, canoe or pedalo at Cotswold Canoe Hire and enjoy a day splashing about on the water. With a variety of Canadian canoes, rowing boats for four or single and double kayaks-you will be spoilt for choice. The more adventurous may choose a stand-up paddle board, or the more flamboyant may opt for a swan or flamingo pedalo! If you prefer a full day out on the water then you may prefer the selection further along the river at Cotswold Boat Hire where a family of 6 or even 8 can take out a cruiser for the whole day.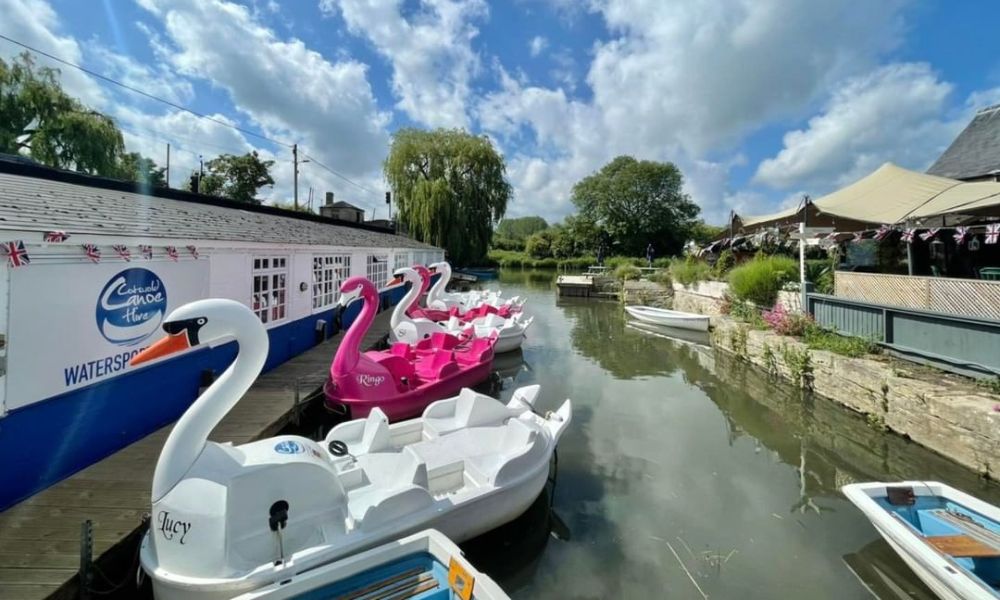 6. Cotswold Wildlife Park and Gardens
Just a short 10 minute drive north of Lechlade will take you to the family friendly Cotswold Wildlife Park and Gardens. Young visitors will be wowed in the Madagascar enclosure where you may spot a lemur zipping through the trees if you're lucky. The fabulous giraffe walkway enables you to get up close and personal to these beautiful creatures. Then you can then stop off to seethe penguins enjoy their daily feed and take in an educational talk from their keepers. The 160-acre gardens of the wildlife park make a wonderful walk on a warm day, filled with plants and flowers year-round.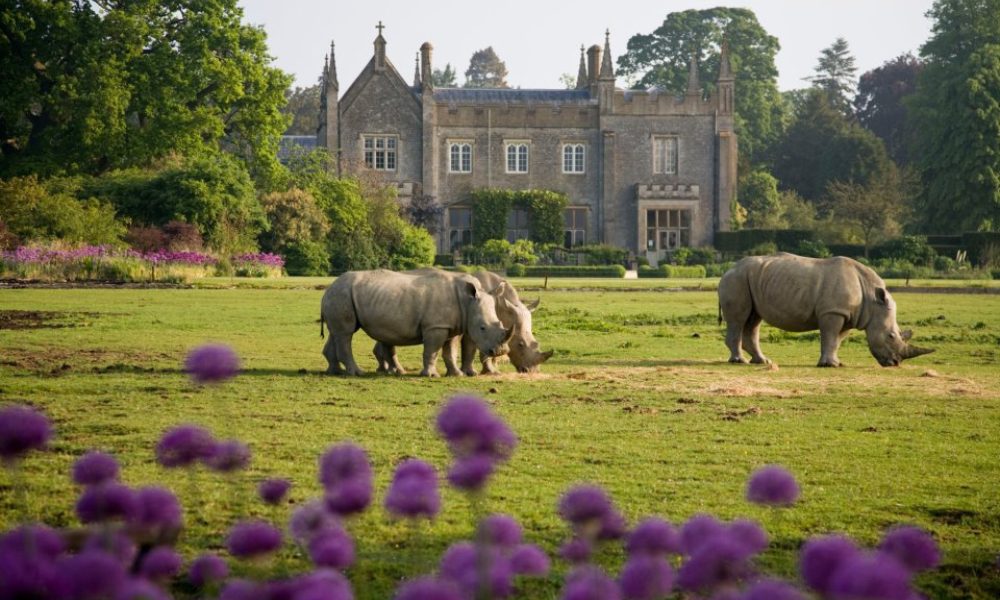 7. Arlington Row Bibury
Many of our guests pop over to Bibury for a photograph of the enchanting Arlington Row, which you may well recognise from Bridget Jones's diary. The charming row of 17th century weavers' cottages are part of the reason William Morris dubbed Bibury "The most beautiful village in England".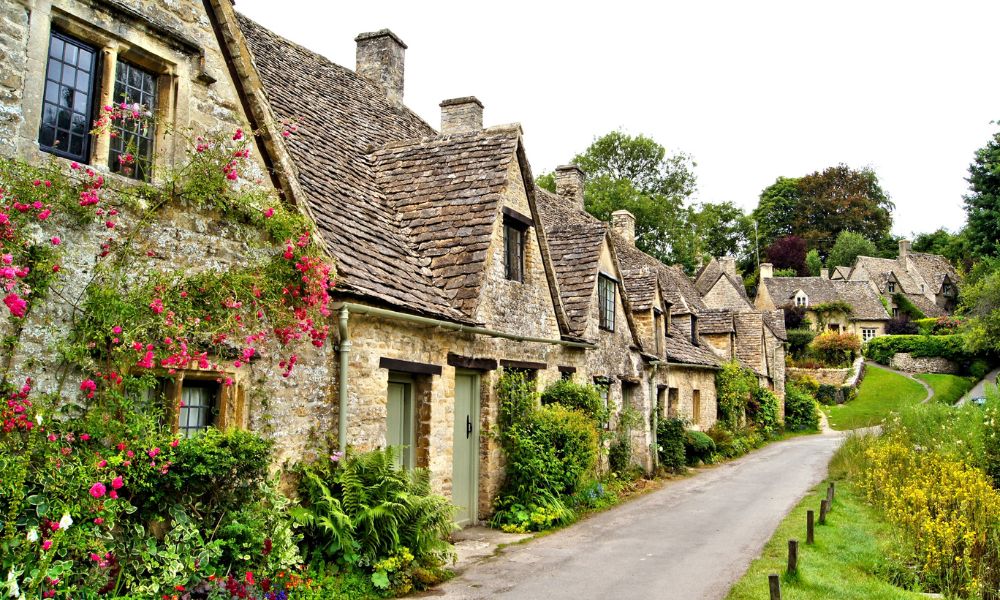 8. Lechlade Music Festival 
Music lovers flock to the area in May when the Lechlade Music Festival takes place. Alongside the local artists, tribute bands and more well known acts such as Pixie Lott, you will find late night acts taking to the cabaret stage and entertaining the crowds with a mixture of singing, dancing and burlesque. If you want to get involved in a craft or activity head along to one of the many free workshops on offer where you could try your hand at belly dancing, pilates or samba dancing, make a flower crown or decorate bunting with needle felt artwork. There's plenty on offer for visitors young and old throughout the May weekend and tickets go on sale each year in June.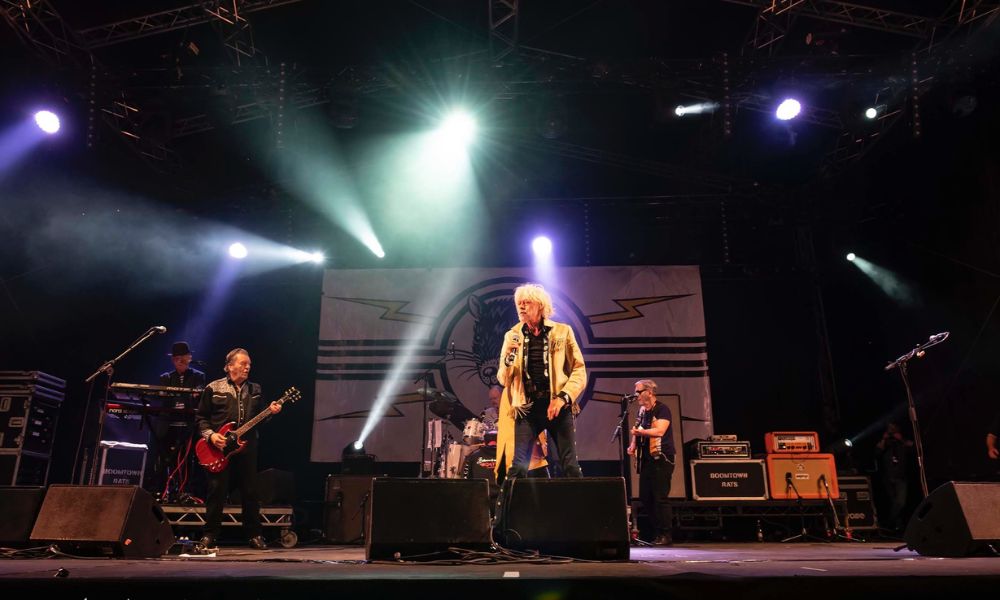 9. Bushyleaze Fisheries
Visitors who enjoy a spot of fishing should book ahead if they want to enjoy a day at Lechlade or Bushyleaze Fisheries. With day and half day tickets available alongside boat hire and full tuition the lakes prove popular with seasoned anglers and first timers alike.
10. Kelmscott Manor
There is no one more famous in the Arts and Crafts movement than William Morris, and visitors to Lechlade can take in the beauty of his summer home, Kelmscott Manor. Built around 1600and nestled on the River Thames the house contains an outstanding collection of his work and possessions including furniture, textiles, pictures, carpets and ceramics. Wander around the beautiful gardens before stopping for coffee and cake at the Tearoom which you can enjoy out on the tranquil lawn.