The terms 'rolling green hills', 'picturesque' and 'honey-coloured limestone villages' are oft-repeated when describing The Cotswolds. And for very good reason.
What area is The Cotswolds
Spanning just over 800 square miles of central-south-west England, the UK's largest designated Area of Outstanding Natural Beauty (A.O.N.B.) does exactly what it says on the tin. The landscape – approximately 80% of which is farmland – is indeed lush and gently undulating. And of the aforementioned limestone, the English novelist J. B. Priestly once wrote:
"The truth is that it has no colour that can be described. Even when the sun is obscured and the light is cold, these walls are still faintly warm and luminous, as if they knew the trick of keeping the lost sunlight of centuries glimmering about them."
The name 'Cotswolds' is largely thought to derive from 'cots' – meaning sheep enclosures and 'wolds' meaning gentle hills. Indeed those rolling green hills provided the ideal habitat for sheep, and historically the area became famous – and very wealthy – due to its high-quality wool. By the early medieval period, the saying went that "half the wealth of England rides on the back of a sheep."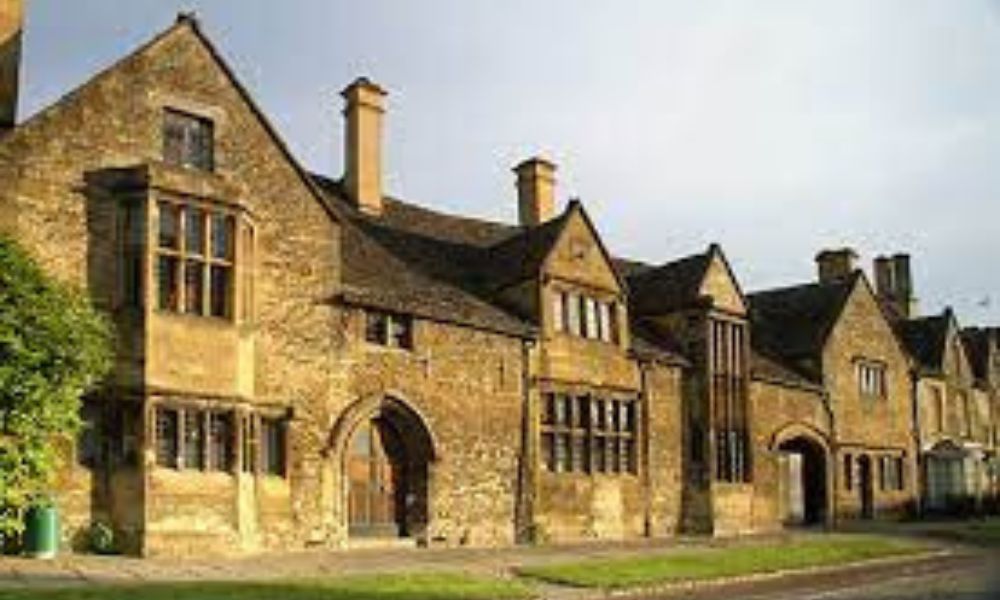 The wealthy wool-merchants built manor houses, such as Grevel House in Chipping Campden and 'wool churches' such as St. Peter and St. Paul at Northleach, and St. John the Baptist in Cirencester. This rich legacy of the wool trade has gifted us an array of historical buildings and the pretty villages – built primarily to support the workers – that are so synonymous with The Cotswolds.
Nowadays you can enjoy a drink or a delicious meal at 'The Lamb Inn' in Burford – a converted terrace of weavers' cottages, or visit Arlington Row in Bibury – a former wool-processing factory. A visit to the quaint village of Filkins will allow you to witness first-hand the ancient tradition of weaving at The Cotswolds Woollen Weavers. And in Stow-on-the Wold you can walk its lanes and visit tea-rooms and antique shops without the need to navigate flocks of sheep on market day!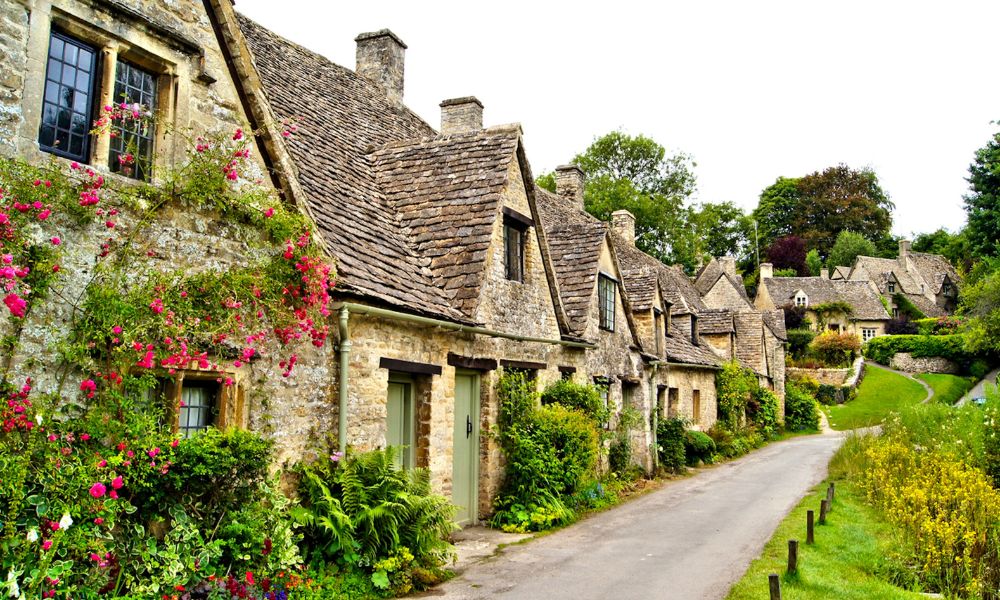 Encompassing large swathes of Gloucestershire and Oxfordshire, and covering parts of Warwickshire, Wiltshire and Worcestershire, this quintessentially English rural idyll offers a network of more than 3,000 miles of footpaths and bridleways to explore on foot, mountain bike or horseback. A self-catering holiday in any of our delightful, comfortable, stylish and well-equipped Cotswolds cottages provides the ideal base from which to visit the historic cities of Bath, Cheltenham, Oxford, Worcester and Cirencester.
This highly-accessible region is packed full of stately homes, such as Blenheim Palace and Sudeley Castle, or the Mogul-inspired folly of Sezincote House, and public gardens like those on show at Hidcote Manor and Highgrove. With a huge variety of museums, wildlife parks, theatres, concerts and cultural activities on offer all the year round, there really is something to suit everyone. Even the family pet can be part of your Cotswolds experience with a stay in one of our many dog-friendly cottages.
With its obvious aesthetic charms and limitless choice of things to see and do, it really is no surprise that The Cotswolds is one of the UK's most popular tourist destinations, attracting around 38 million visitors a year. Whether you're planning your first trip, or you're a seasoned visitor to the area, we know you're going to absolutely love your stay in The Cotswolds.